Putting people first at Camden Property Trust results in higher profits and retention—and a company employees love.
Care in the workplace is not a line item buried in an initiative.
It lives and breathes in behavior; the sieve through which all business decisions are made. It's often in the things you can't see, but feel—woven into the employee experience at every level.
Welcome to Camden Property Trust.
Prioritizing care is what the Houston-based, multifamily company attributes to its 15-year run on the Fortune 100 Best Companies to Work For® list, becoming a 2022 Best Workplace in Texas™, and repeat appearances on the PEOPLE Companies That Care® list.
Its emphasis on care as a business imperative drives employee retention, pride and longevity—all measures of a great culture. That culture and its business success—1,621 employees in 73 cities, 170 properties, and recent induction to the S&P 500—draws the curiosity of some of its peers.
"They're trying to figure out what that secret sauce is," says Ric Campo, CEO and board chair. "We have very competitive markets and people always shook their heads. [They asked], 'What is it that allows you to do as well as you do?' I say, 'It's just the culture. It's about the people, it's about creating that opportunity for somebody to do really well.'"
Case in point: Camden has acquired failing properties, across the street from its own, that were underperforming by 20% because of poor cultures.
"Put a smiling, happy, caring culture in that property and the revenues go up," Campo says. "The people are happier, the customers are happier. It has a major ripple effect. No. 1, it's the right thing to do. But we also know, guess what? It makes money and it creates value."
The inspiration to lead with care began years ago when Campo and Keith Oden, Camden's president and executive vice chair, worked together at a company with a bad culture. The two, then mid-level managers, left to start Camden in 1981.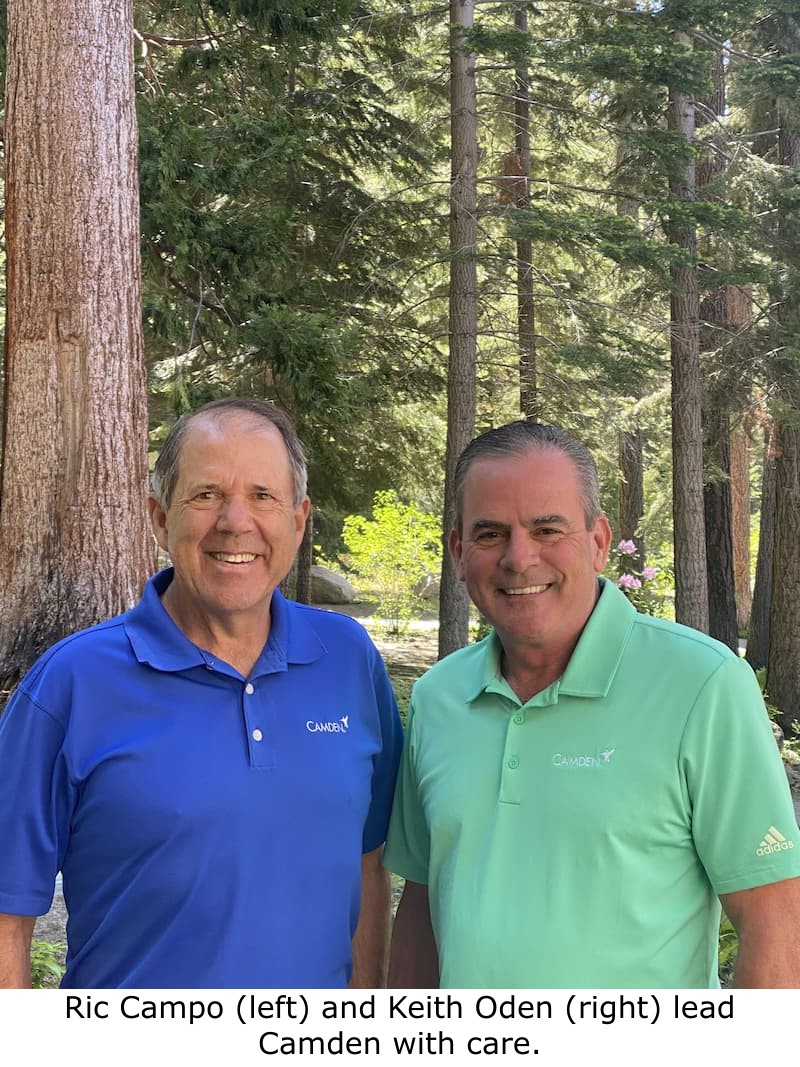 "We left that company and basically said, 'What would company X have done,' and we just did the opposite," Oden says. "One of those things was being genuinely caring about your employees. It's ingrained in who we are at every level of our organization."
"It's not an initiative and it's not something that you say, 'This comes from HR,'" adds Campo, who often quotes management guru Peter Drucker: "Culture eats strategy for breakfast."
Passing the 'care' test
Camden's executive team vets all business decisions through a care filter by asking–no matter the circumstance—"Is it fair, reasonable and responsible?"
"When people set out their values of fairness, trust, care, how do you display them?" Campo says. "And when you make decisions, even in tough times and in good times, does it flow through accurately on them? It's filtering decisions you make every day through that value set."
In response to the COVID-19 pandemic, Camden gave millions back in the form of grants to residents through its Camden Cares philanthropic program and helped residents across the country to obtain loans and apply for rent deferral programs.
Explaining the "why" behind decisions—particularly in stressful times like the pandemic—helps employees and customers feel cared for.
"They trust you and say, 'Okay, I get it. I might have to tighten my belt, but I'm okay with that. As long as everybody's doing it, it's fair and it's consistently applied, then I'm good with that, even during down times,'" Campo says.
Camden saw the impact of that approach years ago when it jumped from No. 41 on the 100 Best Companies to Work For list to No. 10 following the 2008 recession.
"We made this major move up on the list as a result of being that honest and authentic with people," Campo says.
Care and communication were tested recently during its restructuring initiative—Camden Reimagine—as it digitized some of its operations and had to eliminate some roles. Some employees received promotions or moved into new roles while 35 people were left without a position.
"It has to be in your DNA to go, 'I'm worried about that one person who gets displaced,'" Oden says. "How do we help make sure that our outboarding program is fair and we help them get jobs, and we create a person who really wants to come back if they don't have a job right now."
Camden actively helped employees get new jobs using its network, offering resume and interview training, and leaving the door open for those employees to return as future positions open up.
Model the message
It's a nice notion to say you should take care of colleagues like they're family, but Oden and Campo try to show that's true.
"People watch what you do, not what you say," Oden says.
The duo has employees over to their houses for dinner. They remember names and ask about employees' lives outside of work. Corporate speak is all but forbidden and meetings aren't filled with bar graphs and charts. They don't sit at executive tables at company-wide gatherings, but have fun with the rest of the company and get on stage during company skits and costume contests.
And Campo still wears a blue maintenance t-shirt emblazoned with "Ric" on the front, as he has from day one.
"I wear this shirt to convey pride and respect and appreciation to the people in the field who actually take care of the customers every day," he says. "If I spoke in front of a Camden crowd without that shirt on, people would go, 'What's up?'"
It also helps break down barriers.
"You're just trying to say, 'Look, we're just the same people," Campo says. "I have a different job than you do, but yours isn't any less important than mine.'"
In fact, CEOs who think of themselves as better than the rest make Campo visibly cringe.
"That's just awful. I hate that. I get embarrassed by it," he says. "I want to break that barrier down. And you get better information, better feedback from people. They go, 'Let me tell you the truth about this.'"
It's an attitude held by all of Camden's 41-member executive team, whose average tenure is 21 years. They, like all employees, are expected to uphold company values and are all held accountable for their actions.
"You would never get to be a senior executive in our company unless [care] was one of your core values. It's just not possible," Oden says.
"We tell everyone, 'We hold everybody in the company accountable for these values, not just your teammates, but executives alike.' You can't hide who you are. Ultimately, it will be evident."
And it all traces back to those early days of mapping out the company's values on a blank piece of paper.
"Our rule was really simple, we wanted to build an organization that is a place that we would want to work at forever," Oden says. "If you keep that perspective, then you have a little bit of a different view of who you invite to join the team."
"What happens over time is, everyone sees and knows that it's different, and they have this incredible desire to protect it because they view it as something precious. It's fragile and it's perishable, so you have to work at it every day," Oden says.
"You get enough people who understand the benefits of that for everyone in the organization, and magic happens."
Do you have a culture you're proud of?
To find out how your company can become Great Place to Work-Certified and apply to our Best Workplaces lists, start here.
---